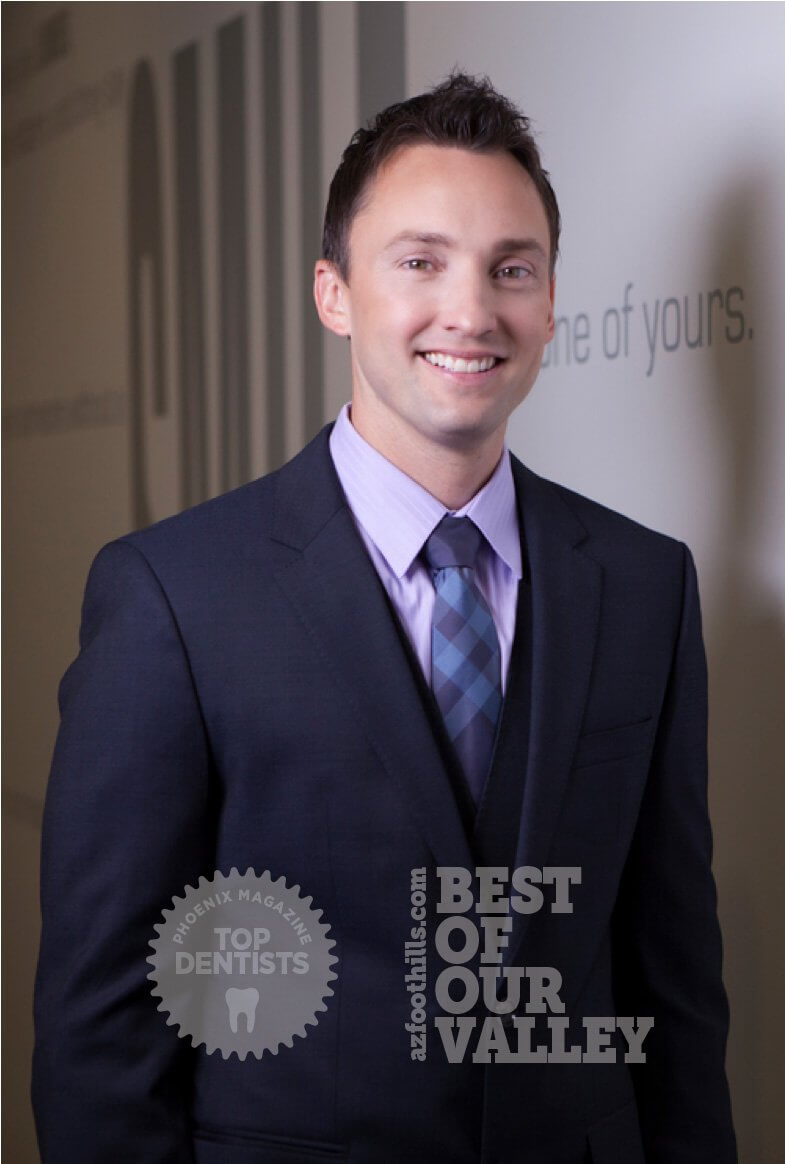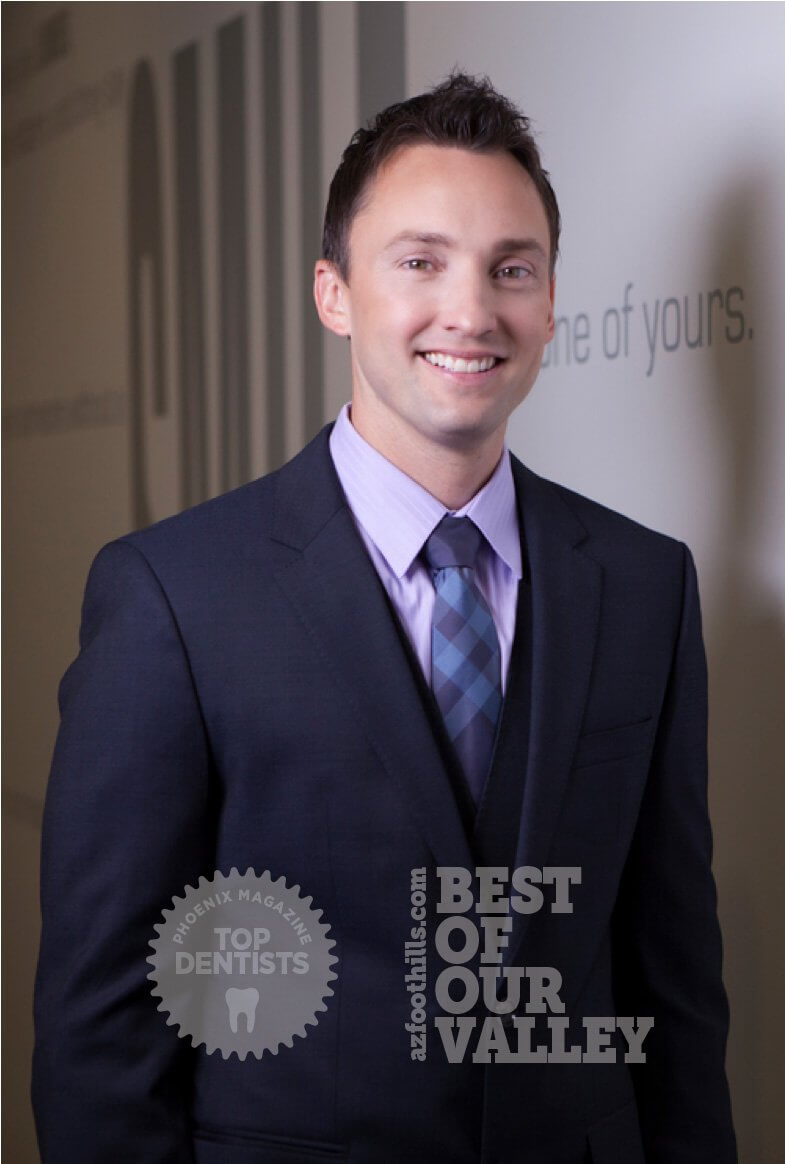 Dr. Ben Larrabee
Dr. Benjamin Larrabee was voted "Best Orthodontist" from AZ Foothills Magazine 3 years in a row and has been awarded Best of the Valley and "Top Doc" by his colleagues. He is passionate about creating healthy, beautiful smiles in the East Valley and is dedicated to the community – supporting several programs, including the United Way Food Bank and the Crohn's and Colitis Foundation of America. He loves to support his patients in their extracurricular activities as well.
After excelling at renowned University of Michigan dental school and finishing in the top 5% of his class, Dr. Larrabee attended the state-of-the-art Marquette University and received his Masters in Orthodontics. Dr. Larrabee loved Marquette's program as it gave him exposure to the different approaches and technologies available in orthodontics. After completing his residency in 2003, Dr. Larrabee practiced in the city of Chicago for three years, working with the likes of Oprah Winfrey's dentists, until he realized he needed more sunshine and made the move to Arizona. Dr. Larrabee has been practicing in the East Valley for over ten years now.
At Advanced Orthodontics, Dr. Larrabee has assembled an amazing team who are excited to bring continual education, training, skills and technology to its practice. He is able to offer his patients the latest advancements available today. In fact, three of his patients have been featured on the cover of The American Journal of Orthodontists. Dr. Larrabee is one of the very few orthodontists in the area that uses the I-Cat 3D imaging for his patients.
He loves living in the Valley of the Sun and resides here with his wife, Carly, and their three children; Luke, Will and Farrah. You will find him in Michigan (GO BLUE!) gear whenever he can. He enjoys spending time with his family and playing sports.
Dr. Larrabee appreciates the opportunity to provide you and your family with the best in orthodontic care. Click here to schedule your free consultation today!
Liz
Liz is one of our two fantastic treatment coordinators. She helps patients of Advanced Orthodontics find the treatment option(s) and payment options that work best for them. Liz is a third generation Arizonian and has been a member of the AO family since we opened in 2005. She loves AZ and her family which consists of her husband, two children, and three pets!
Renee
Renee is another one of our amazing treatment coordinators, helping individuals and families with treatment and payment options. She began working with Advanced Orthodontics in 2009 and is a valuable member of our team. She is usually behind all of our seasonal decorations in the office, as she loves the holiday seasons (especially Halloween). Renee got married in 2012 and has two children of the furry variety – Harry and Tatum.
Whitney
Whitney is one of our skilled clinical technicians but wears many other faces just like the ones you see here! She is known for giving fun tours to all of our new patients and families and showing them the AO Difference including our technology, patient care, and the awesome things Advanced Orthodontics and its patients do for our community. She has been a member of the team since 2011. Whitney is one of eight kids, and loves spending time with her twenty nieces and nephews…rumor has it she's the "favorite aunt"!
Kali
Kali is our Financial Coordinator. Joining the AO family in 2010, she works with our families to help ensure they are receiving the proper insurance benefits and that all payment methods are going as easy as possible for them. Kali is yet another example of a dedicated team member as she recently attempted to come into work just 4 days after the birth of her 2nd child to make sure her patient's and team member's Monday morning started off smooth. Kali has two handsome boys, that are little replicas of her – just the way she likes it!
Janaya
Janaya is our scheduling coordinator and has been with Advanced Orthodontics since 2014! She makes sure our patients have the most personal, welcoming, timely appointment possible. Janaya and her husband are natives of the East Mesa area and eat, live, and breathe Arizona sports together, not to mention Desert Ridge sports in which Janaya's husband is a soccer coach! Her favorite picture is the tiger claw pose – that's what happens if you get too close to her Starbucks!
Karie
Karie is our awesome "singing" chairside technician – as she has never heard a song she doesn't like! Originally from Washington, Karie joined Advanced Orthodontics in 2014. She is loving the Arizona sunshine and the beautiful Arizonian smiles we are creating. Everyone loves Karie too. But, she has ONE flaw…she's STILL a Seattle Seahawks fan – which we're willing to overlook due to her exceptional talent.
Carley
Carley's shining face does double duty. At the front desk she will happily assist you in scheduling your complimentary consultation and at your first visit, she will help find the best treatment for your family's needs. She joined our Advanced Orthodontics family in 2016! Ever the fashionista, she loves to rock a different pair of glasses each day. When she's not at AO, you might find her visiting her horse Mingus!
Chelsea
Chelsea is one of our clinical technicians, joining Advanced Orthodontics in 2015. Whether braces or Invisalign, she will make sure you leave every visit with a smile on your face. Don't be surprised if she calls you back for your appointment while doing a walking handstand! Chelsea moved here with her family from Jackson Hole, WY – she lives for summers in the Arizona sun!
Whitney
Whitney was such a perfect patient we decided to bring her on as a clinical technician in 2016! She has first-hand experience of the difference you'll be experiencing at Advanced Orthodontics! If you hear us playing country music during your appointment, it's probably by her request.